Mr. Jimmie Cannon my musical mentor of 40 years. I owe my career in music and education to him.
Tuesday, May 26, 2009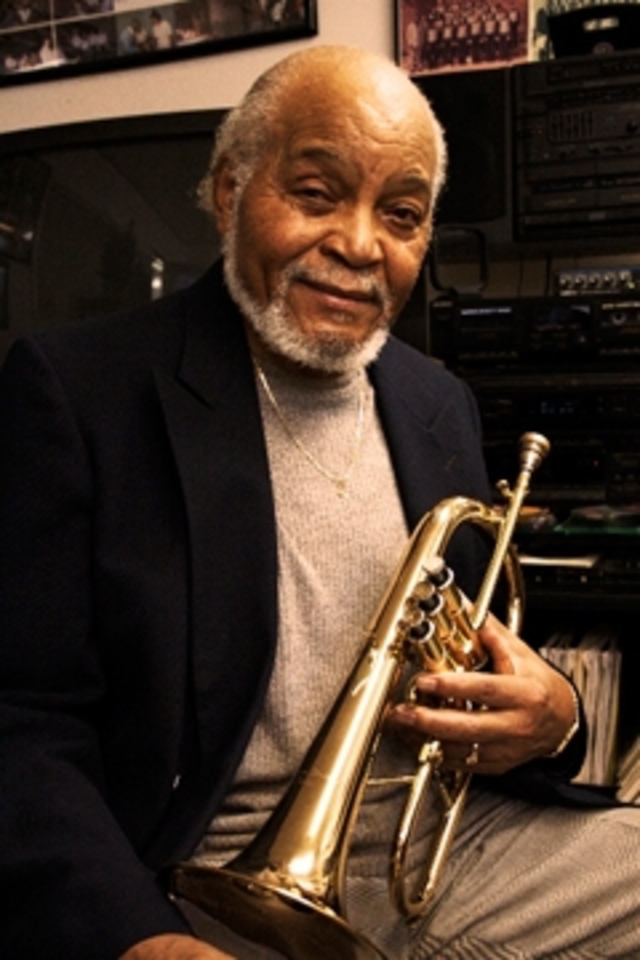 Valley loses music icon Jimmie Cannon
By SILVIO J. PANTA, Staff Writer

Thursday, May 21, 2009 11:37 PM PDT


EVAN MALLORY FILE PHOTO
Jimmie Cannon, shown here with his fluegelhorn, died Thursday in El Centro.


JOSELITO VILLERO PHOTO
FROM LEFT: Maxine Cannon and her son, Derek, stand in front of a portrait of Jimmie Cannon on Thursday at the Cannon home in El Centro.
Maxine Cannon recalled Thursday the first time she saw the man who would one day become the local icon of jazz music in the Imperial Valley.

She was at a nightclub in Little Rock, Ark., in January 1958, watching a band perform when the girlfriend of trumpet player Jimmie Cannon quarreled loudly with another woman, Maxine said.

Maxine told the women to quiet down because they were distracting her from watching the band play. Do you know Jimmie Cannon, Maxine was asked.

"No, and I don't want to know him," Maxine said as she only wanted to see and hear the band play.

But sometime later, Maxine actually did get to know her future husband after a schoolteacher introduced them, she said.

"He noticed me, I guess," she said Thursday at her El Centro home. "He told me he wanted to meet me."

Maxine and other loved ones shared their memories of the 80-year-old music teacher and jazz stylist who died Thursday morning at El Centro Regional Medical Center.

REACTION

While he never complained about chest pain the day before, Maxine said Cannon was feeling ill and was sent to the hospital, where she was told by staff that his heart stopped.

Friends, relatives and other people stopped by the Cannon household after his death, which was greeted with disbelief by some who attended Central Union High School during their youth.

Cannon was renowned in the community for his 30-year association at the El Centro high school where he taught music. He was also known for leading the Valley Jazz ensemble for the past 20 years.

Steve Walker, a 1971 Central graduate and president of the high school's Board of Trustees, said he often tells people the Imperial Valley is a good community because of the people who live in it, "and we lost one of our best ones."

"He was the epitome of cool," Walker said of Cannon, who stood out for him during the heyday of the 1960s and 1970s. "He was such a good person."

That sentiment was shared by Cannon's eldest son Derek, who credited his father for his wanting to pursue a career in music. Derek Cannon is a music professor at Grossmont College in San Diego.

"It's tough," Derek Cannon said when asked about his father. "There's so many things I could say. He was my hero. And I say this all the time but he's the greatest influence on me."

THE MAN

Jimmie Cannon was born Feb. 21, 1929, in Hugo, Okla. and served in the Army during the Korean War, Maxine said. He played with legendary band leader Count Basie, she said.

He moved to the Imperial Valley in 1964 and has lived here since, she said.

Cannon taught at Wilson Junior High School before he began teaching at Central in 1966. He retired in 1996. Never one to let retirement slow him down, Cannon still taught music privately at his private studio and part time at Imperial Valley College.

"He was really, really liked by the community," Derek said of his father, who often spoke of the Imperial Valley in glowing terms because it was here where he always knew he'd be welcome.

"He said he knew who his friends were and who was watching his back," Derek Cannon said.

But someone broke into Cannon's private studio on Main Street in November and stole a number of instruments including a treasured $2,000 fluegelhorn.

MISFORTUNE

The instrument's theft was particularly distressing to Cannon because it was a retirement gift his students chipped in to buy for him during his retirement 13 years ago.

"You're taking away 30 years of love, man," Cannon said during a past interview. "You can't replace that."

While the fluegelhorn was never recovered, Cannon still continue to teach and share his love for music that influenced generations.

Walter Beasley, an El Centro native who teaches at Berklee College of Music in Boston, could hardly suppress his tears for the man he looked at as a father figure.

Beasley, a recording jazz artist, said he spent two hours talking to Cannon over the phone last week. Cannon taught Beasley the value on playing too many notes with a simple line: "Say what you got to say, then shut up."

The advice made Beasley laugh but it also made him regret losing someone close to him.

"He loved teaching more than anyone I knew," Beasley said.

Clark Baker, who owns the Clark Baker Music Store on Main Street in El Centro, is a longtime friend and jazz aficionado who, like most of Cannon's friends, had nothing but high praise for the man.

Asked if he could sum up Jimmie Cannon in one word, Baker said he couldn't think of one. Baker then found the word he was looking for.

"Beautiful," Baker said of his mentor and friend. "He was a beautiful person."